It has been reported that a certain man of God named Cosmos Walker Affran, the head of the Cosmos Walker Affran Ministries predicted the crash of an Ethiopian Airline plane about a month ago.
In a Facebook post sighted online, the prophet wrote: Plane crash " Ethiopian" world should pray. "Thou saith the Lord." Prophecy by Prophet Cosmos Walker Affran"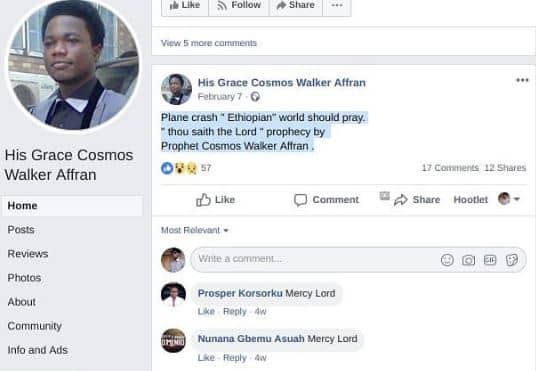 We earlier reported that an Ethiopian Airlines plane carrying 149 passengers and eight crew members from Addis Ababa crashed on its way to Nairobi, Kenya.
According to a statement said the plane crashed around 08:44 local time on Sunday, March 10, 2019, after taking off at the Bole International Airport six minutes earlier.
Initially, information on survivors or casualties had been scanty but later reports suggested that all the 157 people on board the plane perished in the crash.
kullove.com